Grilling season is upon us.  Our CSA started this week, so we have lots of…spinach and kale.  They tend to go overkill on the greens for the first few weeks.  Oh, and fresh strawberries!  And fresh eggs!
Muffaletta spread on pretzel rolls, grilled red peppers (just put some olive oil, salt and pepper on them before grilling) and Chicken and gouda sausages (got them at Costco)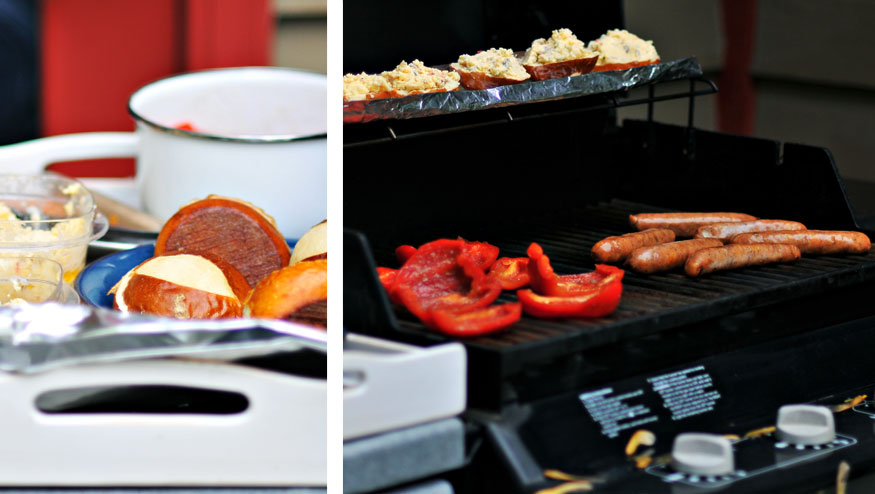 I am trying to cook what is in the freezer.  Our freezer was really full there for a while and now I need to concentrate on cooking what we have so it doesn't go bad.   The veggies are really getting low (as in almost non-existent), but we still have fish and beef.  Whenever I go to Costco I stock up on the pork tenderloins.  Oh how I love pork tenderloin for grilling.  It picks up the flavors of marinades so well, or you can filet and stuff them with cheese/salami.
Last week I didn't buy any groceries.  Na-da.  I ran out of fresh veggies, but at least we used pretty much everything in the crisper.
The week before we spent an afternoon and evening on the beach.  Would you like to know what I made for it?  Sure, twist  my arm…I'll tell you!
~~~~~~~~~~
Lunch on the beach:
Sandwiches -
I grilled a roast the night before, so I used the leftover to make sandwiches:  Roast beef, provolone, lettuce, tomato and roasted pepper spread (jarred not homemade)
I had some pulled chicken in the freezer that I had made previously, so I mixed it with Buffalo sauce (Frank's Red Hot) and blue cheese crumbles.  I put that on a roll with lettuce and tomato.
For the kids I made cheese sandwiches.  Mix 1 brick cream cheese, with 1.5 cups shredded Monterey Jack and 1.5 cups shredded Dubliner (aged white cheddar).  Mix that all up with some garlic and onion powders.  I put them on focaccia bread from the bakery.
Fruit salad – Made my fruit dip and mixed it with grapes, clementines, chopped up strawberries, peaches and apples.
Chips
~~~~~~~~~~
Dinner on the beach:
Sausages from the deli (jalepeno cheddar and just cheddar for the kids) – our friends have a portable grill so they did the grilling
Southwestern salad – Grill some peppers, then chop them up and mix with frozen corn, black beans, chopped, seeded tomatoes and a lime vinaigrette that has cumin in it.  Layer that on the bottom of the bowl.  Chop up some avocados and layer over the pepper mixture.  Chop up some romaine and layer over the top.  When ready to eat, just mix it all together.  Remember your salad tongs!
More fruit salad
~~~~~~~~~~
I think we will have more outings on the beach this year, as we bought the annual pass.  I just need to figure out more salads to bring with us and finger friendly food.  The kids don't like to sit down for very long when there is playing in the sand and the water to do!